Welcome patients
At Ardon Health, you'll find compassionate care for all of your specialty pharmacy and prescription needs. Consider us your partner in health, every step of the way.
As an Ardon Health patient, you'll enjoy:
Quick and easy prescription orders
Help coordinating refills
Information on financial aid to cover costs
Treatment and medication support
Access to our patient care program
Manage your prescriptions on the go!
You may be eligible to use our mobile app, My Ardon, to refill prescriptions, chat with us and get important information. Visit My Ardon to learn more.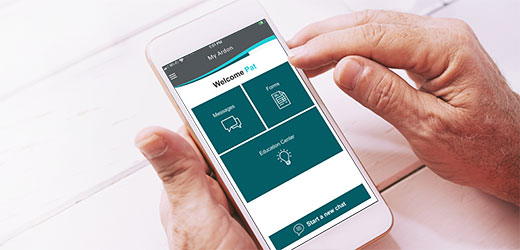 Fill your Rx here
To order or refill a prescription with Ardon Health, just call us toll-free at 855-425-4085. One of our patient care advocates will walk you through the process, Monday through Friday, 8 a.m. to 7 p.m. PT and Saturday, 8 a.m. to 12 p.m. Be sure to have your health plan ID number, medication name and other personal information handy.
If you call after hours, please leave a message. Include your medication name, first and last name, address, date of birth, and a daytime phone number. A patient care advocate will return your call as soon as possible.
You can also contact us by email at info@ardonhealth.com.
Personal attention to feel better
Our friendly patient care advocates are here to make your Rx experience a little easier. We'll help you order, understand and manage your treatment with ease. Rely on us to:
Check your health plan's medication benefit
Help you understand your condition
See if you qualify for financial assistance
Connect you with copay assistance programs
Explain your treatment and side effect profiles
Process and ship your prescription
Coordinate new prescriptions or refills with your provider
Call you a week before to schedule a refill order
Patient care and more
In addition to high-quality pharmacy services, we offer other ways to assist you on your health journey. Learn how our patient support programs can help you get more out of your medication therapy.
Questions?
We're here to help. If you have questions, please contact us anytime. If you have further questions, please visit our FAQ page.
If you have further questions, please visit our FAQs.